THEY SAY "IT'S all about attitude" and Derek David has the attitude to make you believe he can "belt out" any song played, and then does!

Music critic Jerry Marcellino and I attended the opening day of Derek David and his band at Kiss Lounge, formally Café Nicole, in the Sahara Pavilion Shopping Center. Derek appears nightly as one of the legendary Platters at the Sahara, but on Sundays he solos with his 15-piece band and an accomplished variety of local singers which includes Kelly Vaughn, Arnold Parker (a fellow Platter), Lee Anne Brychel, Genevieve and Valerie Gholson. The afternoons MC was Lou Martinez, a fun guy.

The band was made up of accomplished musicians ranging in age from their twenties to their fifties. They were awesome.

Some songs performed by Derek and his guest artists included Mack the Knife, Don't Be That Way and You're Nobody 'til Somebody Loves You. In the tribute to the WWII vets, the performers, while decked out in Army uniforms, sang such songs as Boogie Woogie Bugle Boy, P.S. I Love You, and And the Angels Sing. In the last set songs included Jelly Jelly, Birth of the Blues, Route 66, Unforgettable, and Liberace's version of My Prayer.

Patrons were encouraged to dance along to the music (which many did) and complimentary sandwiches were served. Door prizes were also awarded from ticket stubs and consisted of items from Derek's wife's Rita Bliss' store Du Barry Fashions.

Fun was had by all at this Big Band production in an intimate setting. The room should have been filled to capacity, because the smooth baritone songster Derek David performed song after song from the era of the '40s, '50s and '60s, in a distinctive style that has to be seen as well as heard.

The reasonably priced show, $20, is a Sunday afternoon must see.



Photos courtesy of Reese'n'Chan, Photography.






Reviewed by: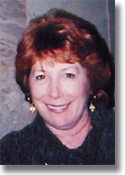 Marleen Marino Jerry Marcellino
For more info:

Derek David performs at 2:00

p.m.

in the Kiss Lounge, formerly Café Nicole,
located in the Sahara Pavilion Shopping Center, 4760 W. Sahara Ave.
(at the northeast corner of Sahara and Decatur), call 317-7752.