"MURDER CAN BE Fun!," at least that was the case in "Death by Chocolate" the May 26th "A Touch of Mystery" Interactive Mystery Theater onboard Lake Mead Cruise's "Desert Princes."

I, nor my wife, VCO founder Marleen Marino or our team members could come close to who, why or how, but we, along with the rest of the dinner guests, had so much fun trying…Although the cast members (all of which appeared guilty) including, Inspector Jack Daniels, played by our host Jay Joseph, seemed to have even more fun than the diners.

One suspect/cast member sat at a different table and took questions from the table/team members and each cast member mingled with the other suspects and diners to answer any diner's questions regarding the dastardly deed wrecked upon chocolate Baron "Stewart Stover," (short of "Did you kill Stover?") and each, of course, appeared guilty as hell. The diners really got involved and seemed to enjoy themselves. A nice added touch was, upon boarding, a photo was taken of each group of diners along with all of the cast members (not necessarily in order of guilt), which was then made available for purchase upon departure.

The only negatives, to an otherwise delightful evening, were a faulty mike system and upon the conclusion of an otherwise adequate dinner was a shortage of desserts. My wife got one, but I, along with some others, did not. However, I did finish my wife's when she went to the restroom…leaving most of a piece of cake, and appropriately enough, a couple pieces of chocolate on her plate. Oh and the WIND!!! Unfortunately it was a very windy evening, and we had to hold on to a rail out on deck as we returned to the Marina after dinner and our futile attempt to try to solve the mystery...

I highly recommend a relaxing and fun-filled evening on a future presentation of A Touch of Mystery Interactive Dinner Theater on Lake Mead or for you "land lubbers" they also have performances at Lawry's Prime Rib (see schedule below).

Again our thanks to our host, writer director Jay Joseph and cast members:

Catherine Cadbury — Joanne Tatem

Ingrid Olsen — Cindi Harper

Inspector Jack Daniels — Jay Joseph

Loretta Lane — Katie Harper

Horacio Hershey — Paul Draper

Eugene Elliott — David Tapper

Schedule
~On board the Desert Princess~
~Lawry's The Prime Rib~

Friday, April 28, 2006

MYSTERY AT THE EARTHQUAKE SALOON

A Musical Mystery set in the 1800s. The Wedding of Rattlesnake Dick & Bethany Sanders, a Mail Order Bride.

Friday, May 26, 2006

DEATH BY CHOCOLATE

It is the fabulous 1940s and you are attending a Chocolate Cuisine Taste Test!

Friday, June 30, 2006

THE CATERED AFFAIR

Dr. Samuel Snipit cordially invites you to attend his open house, but something has gone terribly WRONG!

Friday, July 21, 2006

RUBY'S RIDDLE

Welcome to the Roaring '20s! Someone has turned up missing on a rare Gem expedition. Can you help solve the crime?

Friday, August 25

ALL'S FAIR IN LOVE & MUSIC

Join Vinnie Vegas & the Vinnettes and a whole cast of zany characters for this Musical Mystery!

Shows are at 7:00 p.m.

Thursday, June 1, 2006

THE FAMILY REUNION — 1940s

A patriarch, his new YOUNG wife and a family of zany characters are the perfect recipe for DISASTER!

Friday, July 7, 2006

MURDER WASN'T ON THE MENU

The Bride, the Groom, the Ex-Girlfriend and the Wedding Planner, create a Wedding Rehearsal Dinner with a twist!

Friday, August 4, 2006

MARATHON MADNESS — 1950s

Put on your dancing shoes and journey back to the 1950s. One of the contestants is missing. Have they 2-stepped for the last time?

Friday, October 6, 2006

DEATH BY FEATHERS

The current Ms. Lawry's cannot fulfill her reign. Watch the feathers fly when her runner-up is introduced!

Thursday, December 28, 2006

I ONLY HAVE EYES FOR YOU — 1920s

Baron Maxmillion's latest show is in Las Vegas; but there is more bad acting offstage than on. Someone is about to pay a high price for their antics!

Shows are at 7:00 p.m.
Reservations are required by calling
(702) 497-7936
or on the web at:
www.atouchofmystery.com

Reviewed by: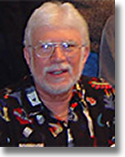 Frank Marino