Happening This Week...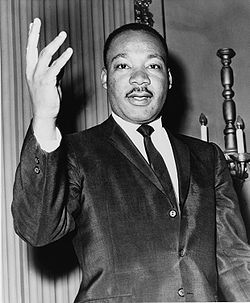 Martin Luther King, Jr., Born January 15, 1929
Martin Luther King, Jr. (January 15, 1929–April 4, 1968) was an American clergyman, activist and prominent leader in the African American civil rights movement. His main legacy was to secure progress on civil rights in the United States, and he has become a human rights icon: King is recognized as a martyr by two Christian churches. A Baptist minister, King became a civil rights activist early in his career. He led the 1955 Montgomery Bus Boycott and helped found the Southern Christian Leadership Conference in 1957, serving as its first president. King's efforts led to the 1963 March on Washington, where King delivered his "I Have a Dream" speech. There, he raised public consciousness of the civil rights movement and established himself as one of the greatest orators in U.S. history...
[read more]