Bob A. Massi is familiar to millions of Americans from his work on the Fox News Channel. As the legal analyst for the Fox News Channel, he has built a reputation for being one of the premier personal injury lawyer specializing in civil litigation experts in the country; on air, he is always informative, charismatic and passionate about issues and rights. For Fox, he has covered such high-profile cases as the Au Pair Trial, Unabomber Trial, O.J. Simpson case, JonBenet Ramsey case, Timothy McVeigh Trial, Scott Peterson Video Trial, Kobe Bryant Video Trial, Michael Jackson Video Trial and many more. In addition, he has covered a myriad of important legal issues, useful consumer topics and the latest breaking news including Homeland Security Video.
Bob A. Massi is a Nevada attorney, and has been practicing in the state since 1980. He received his B.S. at Mount Saint Mary's College in Emittsburg, Maryland, and received his J.D. at St. Mary's University School of Law in San Antonio, Texas. He has been an alternate judge for Las Vegas City Municipal Court. Also, he is a member of ATLA (American Trial Lawyers Association) and Nevada Trial Lawyers Association. He practices primarily in the areas of personal injury, business law, real estate law, wills, trusts, probate and legal consultations.
Bob Massi hosts a one-hour, call-in radio program called "Your Legal Hour with Bob Massi" on KDOX 1280-AM! The show is on every Wednesday, from noon to 1 p.m., Pacific Time.
Bob Massi is the man behind the acclaimed presentation, "The Media, Marketing and the Modern Lawyer."
Bob Massi is the recipient of several awards, including the Hogan Award and Star Sapphire Halo Award for his "outstanding achievement in the broadcasting industry" in 1998.
Bob Massi is an author. His first book, A Layman's Guide to the Law, pushes aside the outdated notion of "buyer beware!" The book covers over 30 "everyday" consumer law topics, like buying homes and vehicles, product safety, children and the law, travel, real estate, employment rights, insurance, bankruptcy, the "ATM Age," starting a business and so much more. His latest book, People Get Screwed All The Time, was released in May 2007.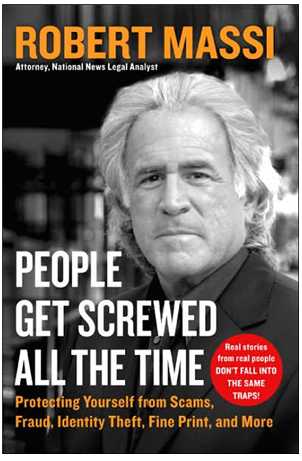 2008