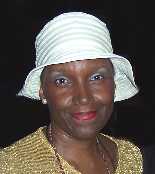 Parker Philpot calls Las Vegas her longtime second home after spending her youth in the Midwest and on the East Coast. She describes herself as "versatile, upbeat, highly visual, detail oriented and incurably curious." Most of all, she calls herself "grateful."
Her life experiences come from "living long enough to get an AARP frequent-breather card." Her work and professional experiences come from that incurable curiosity about how companies and people work. And in her commentaries, she lauds those that work well, and spotlights those that don't. Her column covers a mix of informative, human interest topics, as well.
As a public speaker, writer and researcher, she creates and delivers compelling seminar and workshop presentations on various topics, all with her brand of humor, which she calls "a sideways look at the twisted ironies of life."
She has amassed a solid work history, albeit diverse, even "strangely amusing," she says.
She often refers to her professional work resume as a "buffet of everything I've always wanted to do when I grow up, but what do you do with it in a job interview?" Hence, she decided that her background is best suited for independent consulting and the age of the Internet. "From Parker's Pen" on VegasCommunityOnline.com is one of her outlets.
She has worked in a broad range of fields from nonprofit fundraising to computer skills training. Her array of jobs in her 30-year-plus work career include: print design and production; advanced technologies consultant; audio-visual equipment sales; major-brands retail merchandising; wire service call center operations manager; tradeshow and exhibits development; emergency international telegram operator; photo lab portrait touch-up artist, in-store product and cooking demonstrator, custom poem writer (with singing telegram phone delivery—don't laugh, one poem made a company millions of dollars!), and she even does casual, candid photography with humorous customized captions for private events.
Following an injury, her need for home-based income led to her working several years as a newspaper copy editor, journalist and features writer for community newspapers and businesses, which fit well with her multifaceted interests and better allowed her to implement her formal education and degree in Mass Communications.
She previously published magazines and souvenir publications. Also in the communications field, she was a DJ/interviewer on local community radio (KCEP-FM 88.1, during its 5-watt infancy); she produced her own magazine-style TV program, "Wraparound," for a college campus, and did a media internship with a CBS affiliate news station.
Coupled with her writing business, she is launching a service to customize books for children, promoting early childhood literacy. Each book in the 101-title list of Personalized Books and More includes the child's age, full name or nickname, several family members' or pets' names, and hometown, which are all woven throughout the stories. And the parent or other book gift-giver gets a personalized dedication to the child, making the book a treasured keepsake — a literacy-booster "for a lifetime of love, learning and laughs." Book topics include superheroes, ballerina princess, African-American heroes, and many are licensed, trademarked characters, such as "Batman," "Spiderman," "Scooby-Doo" and "Sesame Street."