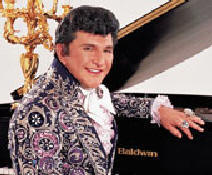 The Strip may sparkle and the neon may shine, but nowhere in Las Vegas will you find a more dazzling spectacle than at the renowned Liberace Museum. Here, you'll see the magnificent, world-famous collections of pianos, cars, costumes and jewelry that established Liberace as the legendary and beloved "Mr. Showmanship."
Pianos Like You've Never Seen Before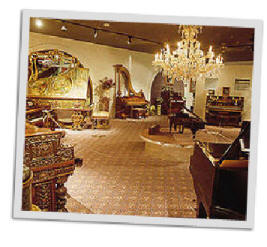 While audiences enjoyed listening to Liberace's exuberant keyboard artistry, it was well worth looking at, too. Among the many rare pianos on display at The Liberace Museum is a rhinestone-encrusted Baldwin grand. And not to be missed is Liberace's favorite piano, a remarkable concert grand covered entirely in glittering mirror squares. The collection also includes a hand-painted Pleyel, as well a Chickering grand once owned by George Gershwin. Eighteen rare and antique pianos are on display in the Piano Gallery.
The Legendary Wardrobe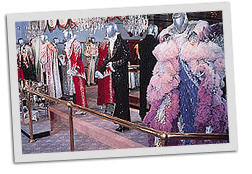 Perhaps no areas in The Museum are as popular as those showcasing Liberace's lavish costume collection and remarkable jewelry display. You'll see Liberace's incredible, rhinestone-lined, full-length Black Diamond Mink cape and a 200-pound "King Neptune" costume, along with the world-famous red, white and blue hot pants suit. And don't miss the breathtaking stage jewelry that helped make the Liberace legend shine even brighter. See for yourself the trademark candelabra ring, complete with platinum "candlesticks" and diamond "flames." Also on display: a dazzling white and yellow gold piano-shaped ring, complete with 260 individually set diamonds, as well Liberace's spectacular piano-shaped wristwatch, paved in a glittering collection of diamonds, rubies, sapphires and emeralds. Liberace's famous sequined, bejeweled and rhinestone-studded costumes, feathered capes and fur collection are on display in the Costume Gallery.
Making an Entrance "Liberace-Style"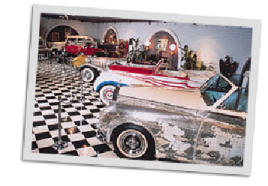 Those lucky enough to have seen Liberace perform will remember the exotic cars which made each stage entrance and exit an event. The Museum houses many of Liberace's one-of-a-kind automobiles, including the "Stars and Stripes," a hand-painted red, white and blue Rolls-Royce convertible. Another Rolls-Royce is clad entirely in mirrored tiles and etched with a custom design of galloping horses. Its sparkle is matched by the nearby Roadster covered in Austrian rhinestones. Elaborately ornate cars are showcased in the Car Gallery from one-of-a-kind Rolls-Royce covered in thousands of mirror tiles to a rhinestone covered customized car.