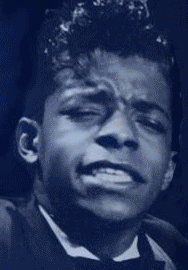 Little Anthony & The Imperials is a rhythm and blues/soul/doo-wop vocal group from New York, first active in the 1950s. Lead singer Jerome Anthony "Little Anthony" Gourdine was noted for his high-pitched falsetto voice influenced by Jimmy Scott. The group has been nominated for possible 2009 induction into the Rock and Roll Hall of Fame.
In 1957, a doo-wop group known as The Chesters existed with members Clarence Collins, Tracy Lord, Nathaniel Rodgers, and Ronald Ross. Anthony Gourdine, a former member of The Duponts, joined as lead vocalist. Ernest Wright took over for Ross, and the group recorded shortly for Apollo Records.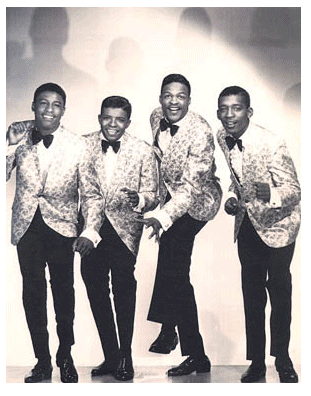 Changing their name to The Imperials, they signed with End Records in 1958. Their first single was "Tears on My Pillow", which was an instant hit. (While playing this song, D.J. Alan Freed dubbed the name "Little Anthony".) The B side, "Two Kinds of People" was also a hit. The group followed up with "Shimmy, Shimmy, Ko Ko Bop" in 1960. When their success dwindled in 1961, Little Anthony left to attempt a solo career. Some members left, and the line-up then became Collins, Wright,
Sammy Strain, and George Kerr. Kerr was replaced by Kenny Seymour after a short time. This line-up had little success.
Little Anthony returned in 1963, replacing Seymour. The group's classic line-up; "Little Anthony" Gourdine, Ernest Wright, Clarence Collins and Sammy Strain was now complete. With the help of record producer/songwriter Teddy Randazzo (a childhood friend of the group), the Imperials found success on the new DCP (Don Costa Productions) label with the dramatic pop-soul records "I'm On The Outside Looking In" (1964), "Goin' Out Of My Head" (1964), "Hurt So Bad" (1965), "I Miss You So" (1965), "Take Me Back" (1965),"Hurt" (1966), and "Out of Sight, Out Of Mind" (1969).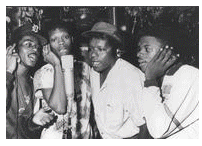 The Imperials then joined United Artists Records and were assigned to its Veep Records subsidiary, and then to the parent label itself, where they recorded "World Of Darkness", "You Better Use Your Head", "If I Remember To Forget", "Yesterday Has Gone" and the Thom Bell produced "Help Me Find A Way (To Say I Love You"); arguably their best song from this period. Albums during this time included Reflections, Payin' Our Dues, Out Of Sight, Out Of Mind (named after their hit cover of The Five Keys song), and Movie Grabbers, which included a rendition of "You Only Live Twice", the James Bond motion picture theme.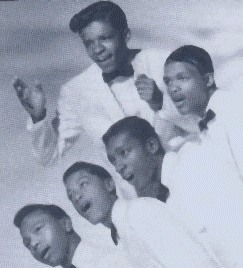 They then went on to Janus Records, where they recorded the one-off single "Father Father" (which they performed on the Merv Griffin Show), and then on to Avco Records in the early 1970s and recorded their album On A New Street, and charted with the songs "La La La (At the End)", and "I'm Falling In Love With You". This album was produced by both Bell and Randazzo. All of these recordings did well on the national R&B charts, although not as successful on the Pop charts as their earlier DCP material. A second LP for Avco Records entitled 'Hold On' was withdrawn from sale in the USA after the failure of the title track to sell and AVCO's subsequent financial difficulties. It did however appear in Venezuela.They also appeared on Soul Train on 26 May 1973. By this time, Sammy Strain and Ernest Wright had left the group, although both would eventually return.
Ernest Wright left in 1971 to join Tony Williams' Platters. He was replaced by the returning Kenny Seymour, who was again replaced after a short time by Bobby Wade. Strain left in 1972 to join The O'Jays, and was replaced by Harold Jenkins (who had already been functioning as the group's choreographer). Jenkins and Seymour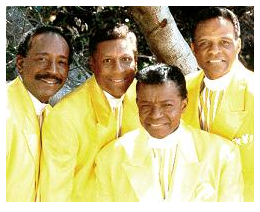 had previously performed together in The Impacts. Little Anthony left for a second (more successful) attempt at a solo career. The trio of Collins, Wade, and Jenkins continued as "The Imperials."
Clarence Collins left in 1988, and was replaced by Sherman James. They then toured as "Bobby Wade's Imperials". James left in 1992, and was replaced by Ron Stevenson. That same year, Collins, Wright, Strain, and Little Anthony reunited for a concert at Madison Square Garden. This reunion proved to be a success. When the decision was made for the foursome to tour together again, Wade relinquished the Imperials name, with his group becoming "Bobby Wade's Emperors". They became the house band at Caesars Palace in Las Vegas. At this point, Sammy Strain left the O'Jays, and returned to the Imperials.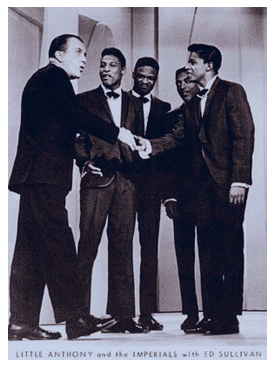 The lineup of Anthony, Strain, Wright, and Collins is considered the "classic" and "definitive" Imperials lineup, as this was the unit that is the best known, and that had virtually all of the group's big 1960s hits. This is also the lineup that has been seen by millions of fans on television programs such as The Ed Sullivan Show, American Bandstand, Shindig!, Hullabaloo, Perry Como's Kraft Music Hall, and other national network programs. On August 30, 1997, they were also featured on NBC's Today show as part of that show's "Summer Concert Series", and appeared on two popular PBS specials; "Rock,Rhythm, and Doo Wop,and "Soul Spectacular: 40 Years Of R&B in 2002 and 2003, respectively. Also, during this period, they recorded two new CDs: "Little Anthony & The Imperials-Live: Up Close & Personal (The group's first ever live album), and "Pure Acapella", an all acapella CD showcasing the group's vocal talents without music on several classic 50's Doo- Wop songs, including their own hit, "Two People In The World", which was written by Imperials member Ernest Wright. These two recordings marked the first time that the classic lineup had recorded together in over 30 years.
Anthony, Collins, Wright, and Strain continued touring as "Little Anthony and the Imperials", until Strain retired in 2004, and Harold Jenkins returned to take his place.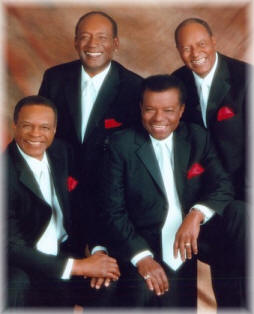 As of 2008, the Imperials are (along with The Dells), the only doo-wop era groups still touring with the great majority of their original members ( Gourdine, Collins and Wright), as most other groups of that era such as The Platters, The Coasters and The Drifters have very few (if any).
They are also one of the very few 1950s-based groups to successfully re-invent themselves and go on to maintain consistent recording success well into the 60s and 70s.
Their songs have been covered by a wide range of artists, including Frank Sinatra, Linda Ronstadt, Sergio Mendez, Reba McEntire, and The Lettermen. On their Discovery album, the electronic music duo Daft Punk sampled Little Anthony & the Imperials' 1977 recording of "Can You Imagine" for the track "Crescendolls".
Little Anthony & the Imperials were inducted into the Long Island Music Hall of Fame on October 15, 2006, the Vocal Group Hall of Fame in 1999, and received The Rhythm and Blues Foundation's Pioneer Award in 1993.
Little Anthony & The Imperials are about to release a new LP in Oct. 2008 entitled, "You'll Never Know" and they will be performing on "Late Show With David Letterman" on Tuesday, August 26th. There's also a Jeff Greenfield interview with Anthony and Clarence forthcoming on CBS Sunday Morning which should air in Sept. as well. Their new site address is littleanthonyandtheimperials.net which heralds their 50th anniversary.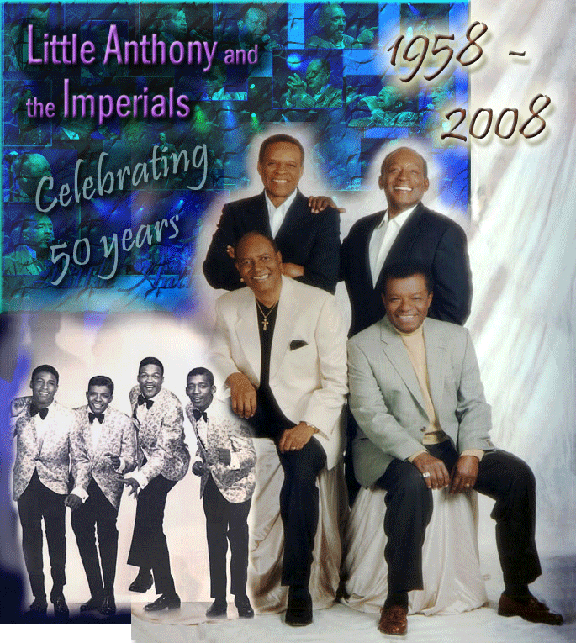 Little Anthony and the Imperials are mentioned in the Tom Waits song "Christmas card to a Hooker in Minneapolis" from the album Blue Valentine (1990). Their Top 20 Pop hit, "Shimmy Shimmy Ko-Ko Bop" was sung by young actors Jared Rushton and David Moscow in a scene in the 1988 Tom Hanks hit movie "Big" .