The magician's sacred code of silence is broken forever in the upcoming second season's MAGIC'S BIGGEST SECRETS FINALLY REVEALED premiering March 2, 2009. The infamous world acclaimed Masked Magician stars in the hour-long episodes airing Mondays at 9pm (ET/PT) on MyNetworkTV. He entertains and enlightens fans of all ages by exposing the secrets behind magic's most mystifying illusions. The Masked Magician continues to defy his fellow conjurers and disclose the tricks that have captivated audiences for centuries.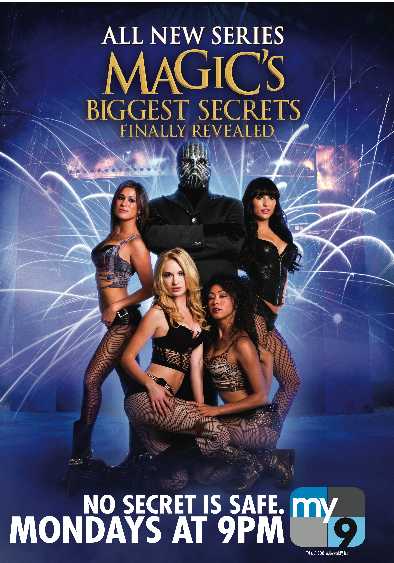 Over 120 of magic's most memorable illusions will be unveiled, including the MOTORCYCLE VANISH, TRAIN LEVITATION, WATER ESCAPE, WALKING THROUGH SOLID GLASS, WALKING ON WATER, MAGIC YOU CAN DO and much more.
Val Valentino, The Masked Magician, has starred in a multitude of international and national TV specials. His four blockbuster FOX TV Network specials were among the highest rated in the history of the network, and garnered better numbers than the World Series. He has successfully performed more illusions on Television in one year than any other magician in history.
ENTERTAINMENT WEEKLY wrote that The Masked Magician is "more spellbinding than David Copperfield's, Lance Burton's and Siegfried & Roy's entire bag of tricks combined." Valentino was also honored on EW's prestigious IT LIST as one of the "Top 100" most creative entertainers in show business.
What has The Masked Magician been doing since his first FOX TV specials? He has been in high demand worldwide, producing TV specials, "live" performances, product endorsements, commercials, TV cameos, consulting on magic projects, etc. He has been awarded the equivalent of an Academy Award in Latin America, and received tremendous recognition throughout the Far East, United Kingdom and virtually the world. The Masked Magician believes that magic transcends all languages, and appeals to all ages.
Due to his tremendous Television success, CBS wasted no time in signing Valentino to a two-hour special episode of the DIAGNOSIS MURDER series starring Dick Van Dyke. The producers were quoted as saying, "The Masked Magician killed us in the last ratings sweep, so we figured we'd do what any self-respecting producers would do: bring The Masked Magician to our side, and kill him off in a two-hour special." The NEW YORK POST's review was glowing. "This is must see TV: videotape this one; you'll be glad you did."
The Masked Magician's "live" stage extravaganza has been touring to sold out arenas globally and across the United States. He has mastered the most difficult and death-defying illusions, and his future plans include attempting to be "buried alive" six feet underground in a metal coffin for seven days. Historical documents attest that the illustrious Houdini feared and never attempted this stunt publicly.
Valentino creates "the magic" then proceeds to reveal the reality of the illusions before a captivated television audience on his MyNetwork TVseries, MAGIC'S BIGGEST SECRETS FINALLY REVEALED. He is the consummate performance-artist who creates, writes, directs and develops his own work.
Nash Entertainment has become so captivated with The Masked Magician that CEO Bruce Nash decided to star him as the lead character in a graphic novel to be produced by Virgin Comics. Nash hopes ultimately to use the novel as a basis for a feature film, Television series, "live" stage production, electronic games and mainstream merchandise.
The graphic novel will revolve around the fictional magician, on the lam from the law. The character dons a mask to protect himself. He begins using magic to solve crimes—and attempts to redeem himself from the past he is trying to escape. The book and movie will highlight how the real life Masked Magician conjures up his illusions.
Valentino is a consultant on the project, and is working closely with Bruce Nash, Robert Kosberg, head of Nash's feature film division, Andrew Jebb and Virgin comics.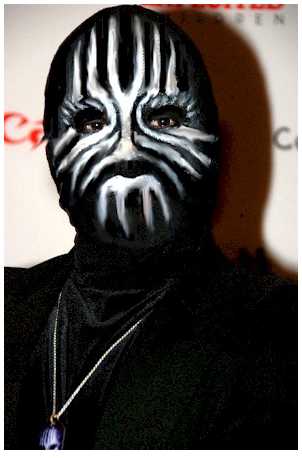 Val Valentino is an amazing entertainer who fell in love with magic at the tender age of 5, and knew that this was his destiny. His father gave him his first illusion, THE BALL AND THE VASE TRICK, and by age 11, he was entertaining professionally by performing magic for parties and at community functions.
He continued to perfect his craft during his teen years, and performed in THE INTERNATIONAL CULTURAL AWARENESS PROGRAM for over a million students throughout the Unified School System. By his early 20's he was touring with major stars nationwide, and was a popular performer at the historic Magic Castle in Hollywood, California.
In addition, he starred in legendary musician Herb Alpert's MAGIC MAN video. It had the distinction of becoming one of the very first music videos.
His first national TV break came with an appearance on THE MERV GRIFFIN SHOW. Merv was amazed with Valentino's performance and stated that "Valentino is a gifted magician; an astounding performer with an unbelievable performance." The acclaim that Val Valentino had been receiving nationwide opened the door for a stunning career in Las Vegas.
He became an instant success and earned wonderful reviews. Hollywood's Daily Variety commended "his combination of irresistible sensuality and spellbinding exoticism." The Las Vegas Review Journal stated that "He ranks among the top few in the city."
Valentino has headlined in some of the top theaters in Las Vegas, Atlantic City, Reno NV, Biloxi Mississippi and Lake Tahoe. He has starred in the popular production SPLASH at the Riviera Hotel, headlined for six years in the world famous "Copa Room" theater at the Sands Hotel and performed throughout Las Vegas at the Las Vegas Hilton, Caesars Palace, The Plaza Hotel and Maxim Hotel. He also continued to tour his sold out stage shows nationally and internationally.
The Fox TV Network approached him while he was touring, and asked him to consider becoming a magic consultant on its upcoming MAGIC SECRETS REVEALED special. He agreed to participate if the producers would reveal only the older magical illusions. They did, and history was in the making.
Valentino knew that his life long dream as a magician was in jeopardy due to the nature of the TV show, but he felt that it was more important to have a magician working closely with the staff then not. Valentino gallantly took the opportunity for the better good of the Art of Magic, when all other magicians backed away and feared possibly tainting their careers.
He worked closely with Director Don Weiner to create a show that would dare to be unique, challenging and exciting. The media and TV fans embraced The Masked Magician, and a new star was born. There was an uproar in the magic community, due to the fact that many magicians did not understand Valentino's motives and his lifelong dream of promoting his love of magic, sharing his passion with his viewing audience and inspiring a new generation of magic fans.

Val Valentino is currently creating a New Magic Society, THE MASKED MAGICIAN'S ACADEMY OF MYSTICAL ARTS. Its purpose is to educate and encourage a New Generation of Magicians, promote public interest in the Art of Magic and preserve its history as an Art form, entertainment medium and hobby.
The Masked Magician will continue his tradition of awe-inspiring entertainment on the second season of MAGIC'S BIGGEST SECRETS FINALLY REVEALED, Monday's at 9pm (ET/PT) on MyNetwork TV beginning March 2, 2009.
One thing is for certain: this visionary magician "will not disappear" anytime soon. This ancient artform created a very special kind of magic and named him Val Valentino aka The Masked Magician.
For additional information go to www.themaskedmagician.com