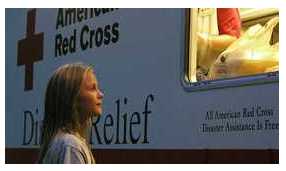 The American Red Cross is where people mobilize to help their neighbors—across the street, across the country, and across the world—in emergencies.
The American Red Cross, Southern Nevada Chapter serves the public in three core areas: Disaster Services, Health and Safety Programs, and Service to the Armed Forces. Red Cross disaster relief, health and safety training and military services have one thing in common – they reach and benefit people in crisis, who have an overwhelming need for immediate help.
Have you ever witnessed an accident or emergency and wish you knew how to help? If your family lost everything in a fire, do you know where you could turn for support? The short answer is the American Red Cross.
The Southern Nevada Chapter of the American Red Cross has been active in the community since 1912, providing relief to victims of disasters and helping people prevent, prepare for and respond to emergencies. The Red Cross works in three main areas:
Health and Safety Training – Throughout the year, the Southern Nevada Chapter provides quality first aid, CPR, AED, aquatics, and babysitter training programs for individuals and families. Each day, the local chapter trains over 60 people in these critical lifesaving skills.
Disaster Response – In southern Nevada a family loses their home and belongings to fire almost every day. On average, the local Red Cross chapter responds to such a disaster every 24 hours, helping over a thousand people a year to get back on their feet after a devastating loss. The local Red Cross also trains volunteers who stand ready to respond to natural disasters across the country and around the world.
Service to the Armed Forces – The American Red Cross provides a vital communication lifeline between military service members and their families by relaying urgent information in times of family emergency, and offers financial assistance and counseling to military families.
Almost all this work is done by volunteers, and the need is great. The local Red Cross offers volunteer opportunities to fit every schedule and area of interest. For details about how you can help, visit our web site at www.redcrosslasvegas.org.
---
Disaster Services
The Red Cross Disaster Services program provides local individuals and families, most often the victims of home fires, with emergency food, clothing, shelter, household items and counseling necessary to re-start their lives after devastating disaster.
The Southern Nevada Chapter of the American Red Cross responds to a local disaster every 24 hours, day and night. Even at 3:00 a.m., there are trained Disaster Action Team volunteers standing ready to go wherever they are needed, at a moment's notice. After the Fire Department, the Red Cross Disaster Action Team is usually first to arrive at a fire scene, prepared with blankets, clothing packs, toiletry kits, and even teddy bears for the children. They are able to provide families with the means to stay in a hotel for several nights if needed, and purchase a meal and a change of clothes.
In that moment, when people are at one of the lowest points in their lives, they need to be able to count on the local Red Cross. Red Cross disaster relief is not long-term assistance, but immediate, short-term help, so that families can begin their recovery.
In our current economic climate, immediate Red Cross aid can be all that stands between our community's most vulnerable families and hunger, homelessness, or health crisis.
Last year the Southern Nevada Chapter:
Assisted 394 local families affected by disaster

Presented disaster education presentations and information to 5,300 people

Volunteer and paid staff responded locally to over 350 single and multi-family fires and disasters; on average, one disaster every 24 hours.
Health and Safety Education Programs:
From First Aid, CPR (Cardio Pulmonary Resuscitation) and AED (Automatic External Defibrillator) training, to swimming and lifeguarding, American Red Cross programs empower and enable everyday people to save lives.
Last year, the Southern Nevada Chapter:
· Trained 29,189 individuals in lifesaving skills through 3,996 classes offered through the Chapter.
· Taught over 10,000 children and youth lifesaving skills through learn-to-swim, lifeguarding and safe babysitting programs.
Service to the Armed Forces/International Services:
· Every 4 hours a member of the military or their family receive support from the Southern Nevada Chapter of the American Red Cross. The majority of these are emergency messages, informing members of the military of a major life event such as the birth of a child or the illness or death of a loved one.
Last year, the Southern Nevada Chapter:
· Delivered 1,079 emergency messages to service men and women stationed around the world and provided financial assistance to their families here in Southern Nevada.
· Contributed 24,879 hours of service at Nellis Air Force Base Hospital through the efforts of over 70 volunteers.