Tom McEvoy is one of the world's most known poker players. With 4 World Series Of Poker bracelets and several poker books written by him, one can say for sure that he has succeeded in the life of poker. He was the first to win WSOP from just have entered a satellite tourney and with this he created poker history.
He was born November 14 in Grand Rapids, Michigan, United States. He started playing cards as early as 5 years old. Although one can be a professional poker player without having started this early but Tom obviously thought it was best to learn young. He now lives in Las Vegas and has 3 adult children; Michael, Patrick and Melanie. His favorite games are No Limit Texas Holdem and Pot Limit Omaha. He used to be an accountant but when he was laid off from his job in 1978 he started with poker. One of his biggest hobbies is to watch a lot of movies when time gives.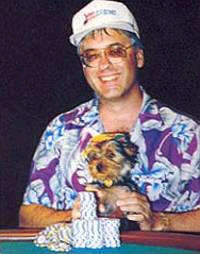 He is now part of the exclusive Team Pokerstars, which consist of; Chris Moneymaker, Tom McEvoy, Wil Weaton, Greg Raymer, Isabelle Mercier and Evelyn Ng. If you want a chance to play against him but don't have the money to go to the WSOP, you can meet him at Pokerstars.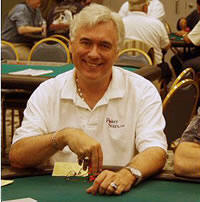 Tom has been playing poker for a while now, with most of it taking place at tournaments. He is somewhat a specialist of this type of poker game. With 4 World Series Of Poker bracelets, over 18 final tables reaches and 27 money-finishing tournaments, Tom McEvoy certainly know how to play poker. In 1983 he successfully took these just 4 years after he started as a professional poker player. Taking 4 of these bracelets at one WSOP is extraordinary and he has made history in many ways. When he won the World Series Of Poker, from have entered a satellite, in 1983 he made history for being the first one who had ever made this.
Bio from HoldemBonus.com
Below are the best-rated poker books Tom wrote by himself or together with others: Championship Hold'em, Championship No Limit & Pot Limit Hold 'Em, Championship Satellite Strategy, The Championship Table: At the World Series of Poker, Championship Tournament Practice Hands, Beat Texas Hold'em and several more.