Born in Syracuse, New York, Vincent Falcone began studying classical piano at the age of three. During high school, Mr. Falcone was introduced to jazz and was so taken with this music, that even though he was engaged in classical training at Syracuse University, he decided to pursue jazz and pop music as a career. After extensive traveling throughout Europe with various jazz groups, he returned to the United States in 1964 and spent several years furthering his musical studies as well as performing in the upstate New York area. In 1970 Mr. Falcone relocated to Las Vegas, where he still resides. He became Caesar Palace's house pianist, was heard by Frank Sinatra who eventually employed him as his musical director and pianist.
This association lasted from 1976 until 1982 with a reprise in 1985 -1986. In 1980, Mr. Falcone was music director for the inaugural gala for president Ronald Reagan.
Vinnie has, at one time or another, been pianist conductor for many of the country's top singers including Robert Goulet, Andy Williams, Connie Francis, Paul Anka, Diahann Carroll, Sylvia Syms, the McGuire sisters, Frankie Randall, Joe Piscopo, the great French singer-composer Charles Aznavour, Jack Jones, Al Martino, Eddie Fisher, James Darren, Steve Lawrence and Eydie Gorme , Jerry Lewis, Julius Larosa, and Tony Bennett.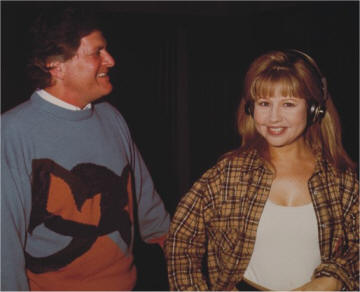 Mr. Falcone was musical director and pianist for Pia Zadora from 1983 to 1993. As such, he along with Robert Farnon, the acclaimed British composer/arranger, recorded three albums featuring Pia Zadora with the London Philharmonic, and Royal Philharmonic orchestras, and one album recorded in Los Angeles, with the brilliant arranger Sammy Nestico.
Vinnie is also featured on a new CD by Steve Lawrence entitled "Steve Lawrence sings Sinatra". He has appeared with such jazz artists as Steve Gadd, Joe Labarbara, Bobby Shew, the Condoli Brothers, Scott Hamilton, Terry Gibbs, Sonny Stitt, Jack Sheldon, Carl Fontana, Mark Murphy and many others.
He has extensive experience as conductor of all size orchestras, including symphony orchestras, and has been musical director for the stage musical "Too short to be a Rockette." He can be heard on several recordings with Frank Sinatra, Pia Zadora, Sylvia Syms, and others as well as his own jazz piano trio album and his latest CD with his jazz organ trio.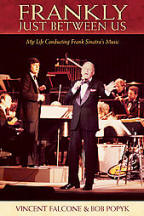 The group, "the Jazz Organization," was recorded live at the Sahara hotel in Las Vegas, Nevada. His latest composition with lyricist Joe Cocuzzo entitled "The Singer'', was recorded by Rosemary Clooney, and Marlene Verplank.
In 2005, Mr. Falcone had his first book published by Hal Leonard publishing co. Entitled "Frankly-Just Between Us". The book tells of his many experiences with Frank Sinatra and many of the other artists with whom he has worked.