If you missed the fun, we will soon have a video from our VIP Event online so you can see some great moments from it, like Nate Tannenbaum being sung to by Marilyn Monroe and much, much more...

We at VCO would like to thank all of our Vegas Insiders who participated in our 1st

"VIP Thank You Party" on Tuesday April 18 at the Take 1 Nightclub.

We'd also like to thank our two hosts and our hostess

| | | | | |
| --- | --- | --- | --- | --- |
| | | | | |
| Pete Barbutti | | Michaelina Bellamy | | Peter Allman |

as well as a big THANK YOU to all of our celebrity impersonators
who made the evening so much fun.

| | | | |
| --- | --- | --- | --- |
| | | | |
| Linda Angeline as | James Rompel as | Frank Grata as | Sammy Liguori as |
| Marilyn Monroe | Elvis Presley | Rodney Dangerfield | Robert De Niro |
| | | | |
| | | | |
| Roy Hammrick as | C. C. Carter as | Sharon Owen as | Sebastian Anzaldo as |
| Willie Nelson | Shania Twain | Barbra Streisand | Frank Sinatra |

We're proud to announce that we've received proclamations from both
the U.S. House of Representatives and
the U.S. Senate

Look for Vegas Community Online's
VIP party on
Entertainment Las Vegas Style


in the month of May,

Saturday
late night 12:30

a.m.

on
KTUD-TV-25 UPN, Cable 14 and
Saturday late night at
2:00

a.m.

on KVWB-TV-21, Cable 12.

We'd like to thank our "VIP Thank You Party" Sponsors

Available Sponsor Hot Links

s

VCO's Prize Giveaway

A 30" X 40" Giclee of Ray Charles from the original painting by Ruel James

Valued at $1600

Two sets of "Dinner for 2" at the fabulous Stirling Club

(a $200 value for each set of dinners).
Two tickets to see Barry Manilow at The Las Vegas Hilton

"Music and Passion Concert"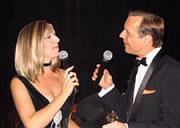 The Concert That Never Was
WINNER
Mary Sanders

A fun evening with arguably two of the best Streisand/Sinatra impersonators. This tantalizing show gives a glimpse at what it could have been like for Barbra and Frank to team up.

Tribute to Neil Diamond at the Riviera Hotel.

For his entire career, that image has reflected one of America's brightest stars with an uncanny likeness to Neil Diamond.
Man with the 1002 voices
WINNER
Bob Cusumoto

Unlike most impressionists Jones can readily switch his voice from men to women and back again. Larry's mannerisms and vocalizations are dead-on, it is his comical parodies that set him apart.