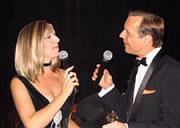 The Concert That Never Was
WINNER
Stanley Evans
A fun evening with arguably two of the best Streisand/Sinatra impersonators. This tantalizing show gives a glimpse at what it could have been like for Barbra and Frank to team up.

Tribute to Neil Diamond at the Riviera Hotel.

For his entire career, that image has reflected one of America's brightest stars with an uncanny likeness to Neil Diamond.
Man with the 1002 voices
WINNER
Gwendolyn Woods
Unlike most impressionists Jones can readily switch his voice from men to women and back again. Larry's mannerisms and vocalizations are dead-on, it is his comical parodies that set him apart.